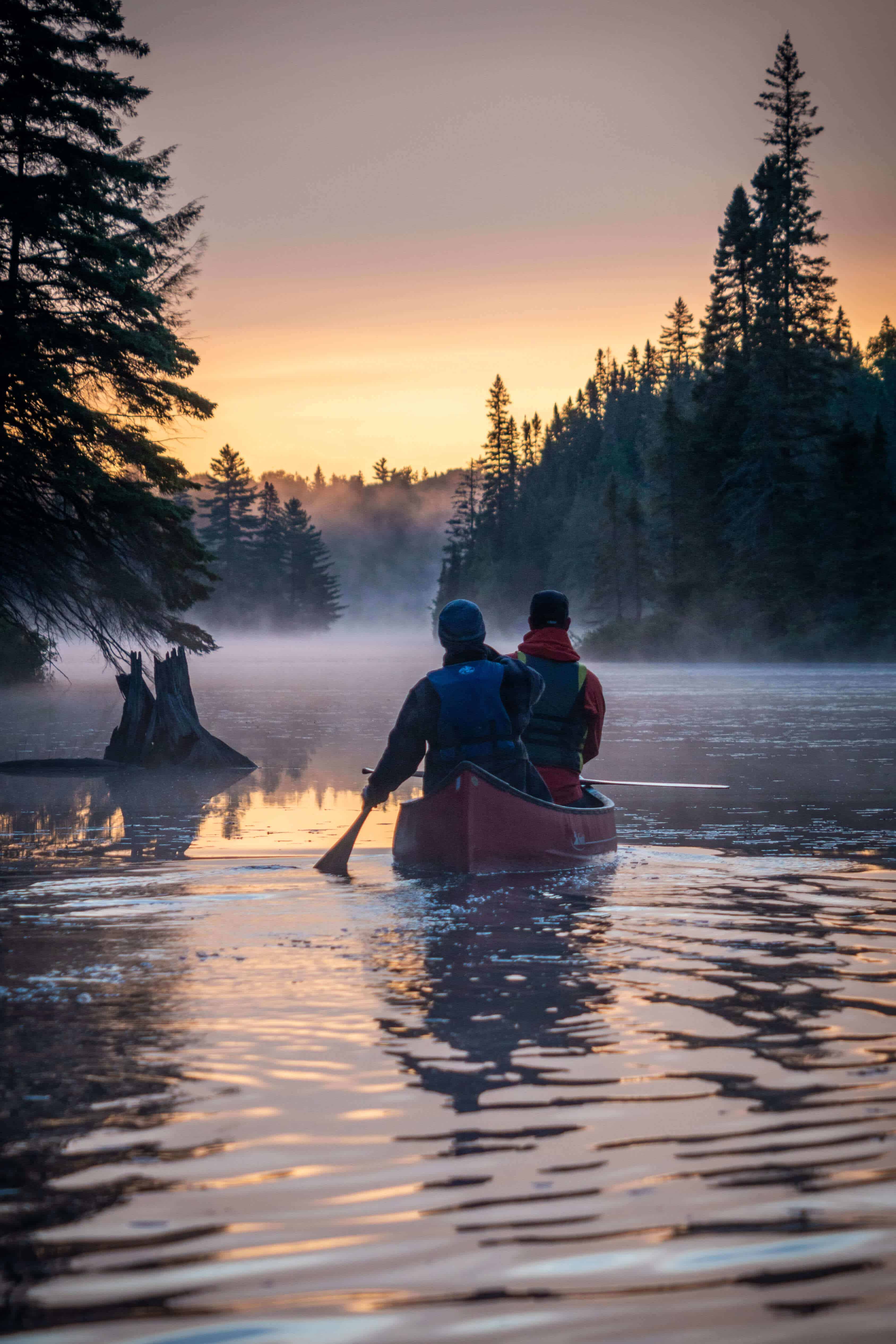 With 29 Acess Points and over 2000 kms of canoe routes, Algonquin Park offers a lifetime of canoe trips. From white-water rivers to tiny trout streams and every kind of lake in between, Algonquin Park is truly a canoe trip paradise. So how does one decide where to go? 
Certainly, where you live often dictates which Algonquin Park canoe route is most convenient to access.
Ottawa residents, for the most part, head to the eastern side of Algonquin Park, whereas Toronto and cottagers from Muskoka and Haliburton typically head to the Highway 60 corridor and western Access Points.
Algonquin Park's massive size (over 7000 square kilometers) makes it hard to get to all parts of the park. With the exception of Highway 60, going through the southern portion of Algonquin, there are no roads going through Algonquin Park. You have to drive all the way around Algonquin Park to get from the west side to the east side – a 7-hour drive from Access Point #1 on Algonquin's western boundary to Barren Canyon at Access Point #22.
For solitude and the best wilderness experience, avoid the Highway 60 corridor.  Rather start your canoe trip from one of the access points on the western, northern or east side and head deep into the interior.
Here are 6 "Best of  Algonquin Canoe Routes" that have high approval ratings from my canoe partners.
Best Weekend Canoe Route
Barron Canyon
Put in at Achray and paddle out through Stratton, High Falls through the Canyon and take out at Squirrel Rapids. Fantastic views of the gorge formed by a big drain out that occurred 10,000 years ago. This route can get busy so try and do it in shoulder seasons or early summer.
Algonquin Portage can help with your shuttle
Best "One-way" trip across the Park
Kawawaymog  (Round) Lake to Kiosk
Classic route of gorgeous big lakes and countless options of little lakes north, and south if you want to chew off more. Easy access at Access Point #1 and take out at Access Pt #29.
Voyageur Quest, has both a guided "One-way " 5-day trip and a do-it-yourself outfitted option with a shuttle. 
For canoe outfitting, call Voyageur Quest Outfitting for canoe rentals, gear, and cabin accommodation before and after your trip. The Canoe Outpost cabins allow you to drive to the park for a late arrival the night before your trip and get an early morning start on your day 1 (options to book a dinner and/or breakfast at the licensed Broken Paddle Patio) . 
Another option if loving the idea of crossing Algonquin Park, Voyageur Quest offers an epic Algonquin 13-day canoe expedition that crosses Algonquin, from Access Pt #1 on the west side to MacManus Lake on the eastern boundary. This trip is made up of two 7-day trips, the first featuring the big lakes and wildlife between Kawawaymog and Cedar Lake. Then, switch to whitewater mode and paddle down to the whitewater of the Petawawa River.
Best North to South trip
Brent to Canoe – in the heart of Algonquin
Another classic – through the Heart of Algonquin – is my favorite. Put in at Access Pt #1 (Lake Kawawaymog) (or if coming from Ottawa, Access Pt #27 Brent) and take out along the 60 corridor at Access Pt #5. The shuttle, though costly,  makes this a very nice 6 – 7 day trip. Voyageur Outfitting can rent you a canoe and do the pickup shuttle at Canoe Lake. If you want to avoid the shuttle – you can start at Canoe Lake, paddle north to Brent, and then south to Opeongo. A solid 7-day/7-night trip for the solid canoe tripper.
Best Highway 60 corridor route
Smoke to Ragged
A rite of passage, this route is easy paddling with one short portage and lots of nice campsites on Ragged. For many, their first Algonquin canoe trip.
Portage Outpost has decades of experience in the area having operated the P-Store at Access Point #5 in Algonquin Park at Canoe Lake and has now moved its operation to a new location –  known as the last stop before the park, at 5280 HWY 60, Oxtongue Lake, near Algonquin Park's west gate.
Best Family canoe route
Rain Lake
This one was hard to nail. Rain Lake was one of several that come to mind. Access Point #4 is pretty easy to get to. You can paddle from the access point and get to campsites on Rain or a short portage into Sawyer offers more exploration. Best to keep it simple with kids. Don't focus on distance. Get to some fun sites and explore. North Tea Lake to Manitou is another great choice. Tiny portages, and nice big lakes.
There are no outfitters at Rain Lake but you can get a canoe elsewhere and drive in with a canoe on your roof.  Voyageur Outfitting can help with any outfitting for North Tea or Manitou Lakes. 
Best Romantic canoe route
Opeongo Lake
Keep it simple and head to a private campsite on a massive lake. Opeongo is windy and rugged -great to watch storms and snuggle next to a fire (though currently, all of Algonquin Park is under a strict fire ban).    Head to Access Pt#11 where Opeongo Outfitters has canoes.
Feeling lazy – take a water taxi to your campsite and paddle back! 
Best Canoe Trip Alternative
A Lodge-Based Adventure or Cottage rental
at the edge of Algonquin Park 
Canoe Trips are iconic experiences and Algonquin Park has so many routes to choose from. Should your family, friends, or paddling partners feel a little less ambitious this year – consider a Log Cabin Adventure or a Cottage rental at the edge of Algonquin Park – a great way to be at the edge of Algonquin Park and still be able to experience wildlife viewing and fabulous day trip excursions.